Oriental Rug Washing
EverClean offers professional area rug cleaning services in Nashville TN and the Middle Tennessee area. Get your oriental rugs thoroughly washed with our in-home or in-plant rug cleaning service. Your rugs will look great, feel soft and smell fresh! We use gentle, yet powerful cleaning solutions that thoroughly clean wool, cotton and silk rugs so they last a lifetime.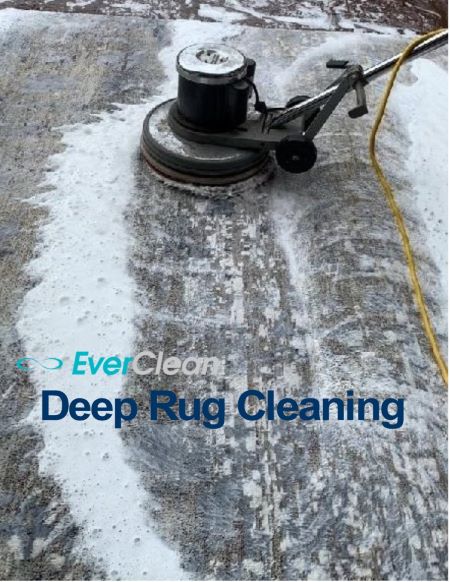 Rug Plant Location
EverClean offers pick-up and delivery service, or you may drop your oriental rugs off, by appointment only, at our rug cleaning plant located at 3926 Dickerson Pike, Suite 207, Nashville, TN 37207.
IICRC Certified Rug Shampooing
In-Home Service
Get an In-Home rug cleaning that delivers quality results without the hassle of moving your area rug. While having your rugs cleaned at our facility delivers better results, our In-Home rug cleaning removes a significant amount of surface soils similar to carpet cleaning.
Good Soil Removal
Rug Stays In-home
Safe, Effective Detergent
Rug Backing Stays Dry
Safe for Hardwood Floors
8 to 12 Hour Dry-time
Pet Odor Treatment Available
Fiber Sealant Available
Standard In-Plant Service
Get In-Plant Standard Cleaning to thoroughly clean the face fibers, rug backing and the fringe of your wool, cotton, silk or synthetic rug fibers. Our In-Plant Standard Cleaning removes a significant amount of soils so your rug looks great and lasts for years to come.
Significant Soil Removal
Safe, Effective Detergents
Wool Stain Sealant with UV Protection
Pet Odor Treatment Available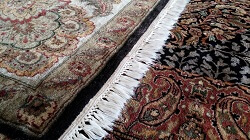 In-Plant Rug Bath Service
Get In-Plant Rug Bath, our most invasive rug cleaning that gets your fine rugs that cleanest. Our In-Plant Rug Bath submerges your finely woven rugs into a water bath to flush out pet urine, dander, soils, allergens and more. We then gently scrub, squeegee and extract the soils for the most thorough results.
Maximum Soil Removal
Safe, Effective Detergents
Wool Stain Sealant with UV Protection
Pet Odor Treatment Available
Rug Delivery Service
For an additional charge, we offer rug pick up and delivery services to the Greater Nashville area. You may also drop off and pick up your rugs Monday through Friday between 8:10AM and 9AM, by appointment only. Our estimated rug hold time is approximately two weeks.
Additional Information
EverClean Carpet Cleaning in Nashville, TN offers a thorough, in-plant rug cleaning service for your oriental area rugs. Before cleaning your rug, we perform a detailed inspection to ensure the safest cleaning possible including foundation strength, fiber type and dye testing. We then carefully clean your rug the way it was made, by hand.
Our Nashville rug cleaning service uses minimal power tools to safeguard your fine rugs from harsh mechanical problems such as fiber loss, fiber distortion and dye loss. We also use soap-free, pet-safe All-Spray detergent that doesn't contains harsh, toxic ingredients. Our rug detergent is specifically formulated for wool, cotton and silk rugs, but also does a great job cleaning polypropylene, olefin and other synthetic fibers.
Rugs With Pet Odors
Does your fine area rugs have pet urine stains and odors? It is very common for pets to mark on wool rugs because they smell another animal – sheep's wool. Pet urine on a wool rug requires a lengthy rug bath to flush out the urine prior to cleaning. We also use Ur-Out, a probiotic enzyme urine odor eliminator that safely and naturally decomposes urine odors permanently.
Rug Cleaning Precautions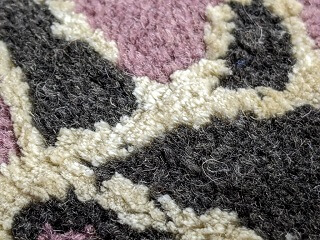 Please note the following cautions regarding pet urine removal from natural fiber rugs. Pet urine permanently stains natural fibers including wool, cotton, linen, silk, jute, sisal, etc. There are times we can greatly mitigate the urine stains and odors; however, we make no guarantee for complete urine stain or odor removal.
When a natural rug has urine contamination, it must soak in our natural neutralizing solution to remove as much urine salts as possible. This may cause dye loss wherever the dyes have been exposed to pet urine as the urine can destabilize permanent dyes. Pet urine permanently affects the natural rug's value and appearance. EverClean assumes the position of damage control only and in no way makes any guarantee to completely restore the rug to new condition. If you need rug cleaning, choose EverClean's rug cleaning in Nashville.