Upholstery Cleaning Service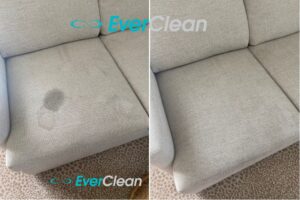 EverClean Nashville offers professional furniture and upholstery cleaning services in Nashville TN. Get that clean feel again with your sofa, sectional or loveseat! Our nontoxic, soap-free cleaning solution emulsifies the most stubborn soils and odors while our steam cleaning machines whisks it away! Your fabrics will look great, feel soft and smell fresh again!
We also clean dining chairs, mattresses, drapes and other unique natural and synthetic fibers. If you have a question about our furniture cleaning service, call use now at the number above. We're happy to help you keep your furniture looking and feeling great!
Certified Upholstery Cleaning
Service Includes
Detailed/Pet Hair Vacuum (additional)
Soap-Free Detergent, No Sticky Residue
Deep Fabric Scrub
Hot Water Soil Extraction
50% Faster Upholstery Dry Time
Additional Features
Expert Cleaning Technicians
Professional-Grade Tools & Equipment
Safe, NonToxic Cleaners
Door Covers to Keep Air in, and Bugs Out
Non-slip Floor Mats
Corner-guards to Protect Your Walls
Upholstery Cleaning Packages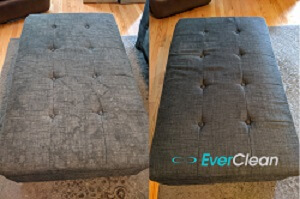 Contact Points: Our Contact Points Package includes cleaning all the common touch points as well as beneath each seat cushion. It excludes the sides, behind the sofa and behind the back seat cushions.
Complete Clean: Want a thorough upholstery cleaning? We can do that! Our complete clean includes all the touch points as well as behind all seat cushions, the sides and back of your upholstery, basically every stitch except bottom!
Upholstery Cleaning Information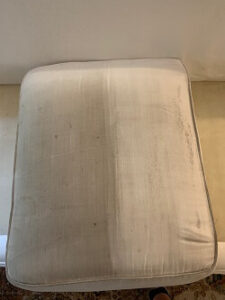 Nashville EverClean offers quality upholstery furniture cleaning including microfiber, cotton, linen or leather upholstery. We offer two upholstery cleaning packages to ensure you receive the level of service you desire.
EverClean uses non-toxic detergents with only the best equipment to thoroughly clean your Nashville sofa, arm chair or loveseat. We also offer additional upholstery cleaning services including fabric protection, pet hair removal and a hospital-grade sanitizer and deodorizer application.
While most upholstery fabrics today are made from synthetic fibers such as polyester, we see our share of cotton and linen fabrics that require professional care. Both linen and cotton are plant-based fibers that can yellow if humidity levels are too high in your home or office.
Known as cellulose browning, the metal ions within the fibers rust with the high humidity leaving a yellow or brown appearance – think old news paper. EverClean upholstery cleaning uses special equipment and techniques along with non-toxic cleaners to leave your fabric soft, clean and ready for comfort.
Leather Upholstery Cleaning Service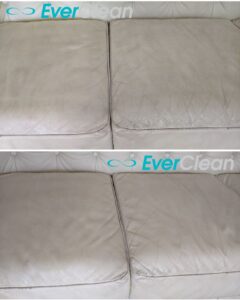 EverClean offers leather cleaning and conditioning to prolong and protect your leather sofa. It's easy to forget that leather is a very absorbent surface that can hold a lot of oils from our skin, airborne cooking oils, and pet dander. Having your Nashville leather sofa cleaned regularity will help keep it in great shape for years go to come.
Our leather upholstery cleaning service includes thorough vacuuming of your leather furniture, leather detergent application and finally soil removal with agitation and absorbent pads. We use special cleaners that cut through the grime while leaving your leather sofa soft and conditioned. Call or click right now to get a quote and to schedule your Nashville upholstery furniture cleaning.