Hardwood Cleaning Service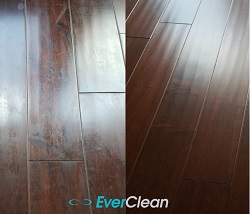 EverClean Nashville offers professional hardwood cleaning and wood polishing services in Nashville TN. Love your hardwood floors again with our expert woodfloor cleaning service. We don't just mop your floors – we wash, scrub and rinse away airborne cooking oils, soap residue and grime build up. You'll love how clean, smooth and brilliant they'll look after our service.
Did you know that house cleaners rarely rinse your wood floors after mopoing them with soap water? While the hardwood may appear clean, it now contains sticky soap residue that will soon attract dirt and grime. Worse, you'll have to hear that sticky shoe sound – yuck! Our wood floor cleaning service removes the dirt, grime and caked-on soap residue so your hardwood floor doesn't just look clean, it is clean!
Before your service, we provide a thorough inspection to determine how your hardwood floor was made. This ensures we do not damage your floor by warping or buckling it if it contains fiberboard, a common core found within wood flooring. Don't let just anyone clean your hardwood floors. Trust our wood cleaning experts so you're not left with soaked, warped wood floors.
Expert Hardwood Cleaning
Service Includes
Expert wood analysis to determine construction/composition
Surface test to determine finish type: urethane, acrylic, shellac, oil-rubbed
Dry vacuuming
Intensive hardwood floor cleaner
Machine scrub agitation
Wet/dry clean-water extraction
Hardwood floor polish (additional)
Additional Features
Expert wood cleaning technicians
Professional-grade cleaners & equipment
Door covers to maintain air conditioning
Non-slip floor mats
Corner-guards for wall protection
Hardwood Cleaning Packages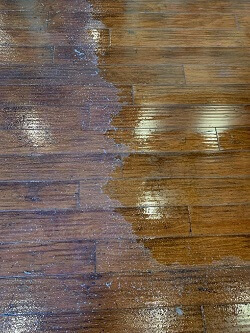 We offer three levels of hardwood floor cleaning including light, standard and deep wood floor cleaning services. Our service leaves your wooden floor clean, brilliant and soap residue-free.
Light Hardwood Cleaning: Includes the application of hardwood floor cleaner with either bonnet pad absorption or clean-water extraction depending on make of your hardwood floor. This service is for light to moderate soil removal.
Standard Hardwood Cleaning: Includes intensive hardwood floor cleaner, brush agitation and clean water extraction. This service is for light to moderate soil removal.
Deep Hardwood Cleaning: Includes intensive hardwood floor cleaner, oscillating floor machine agitation, and clean-water extraction. This service is for moderate to heavy soil removal.
Wax Removal: If your hardwood floor appears to have a residue, or appears caked or too shiny, you may have acrylic wax build up. We remove acrylic wax at a rate of $149 per hour.
Hardwood Cleaning Process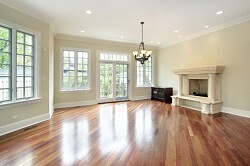 Did you know that mopping hardwood floors only exchanges the soils for sticky soap residue? This allows the soils to stick faster causing the wood floor to soil faster. Airborne cooking oils, human sebum, soap residue and pet dander are just a few of the common soils found on Nashville hardwood floors.
Our hardwood floor cleaning includes special cleaners, gentle scrubbers and a clean-water extraction system that leaves your wood floors clean and residue-free. We don't stop there! Our final step involves applying a neutralizing cleaner and conditioner to ensure your wood floor is squeaky clean.
After having your hardwood floor cleaned, you may choose to have us apply our satin urethane-based polish, which seals and protects your hardwood floor for approximately one year.
Hardwood Cleaning Floor Polish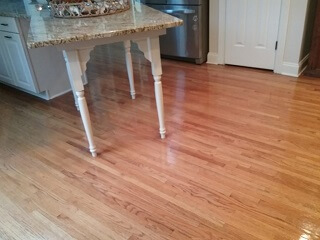 After having us clean your hardwood floors, the original finish may contain tiny scratches from normal wear known as abrading or graying. When light hits these tiny scratches, they refract light making the finish appear dull and gray even though the wood floor is clean. Applying our special floor polish can help hide those micro-scratches temporarily between cleanings so your wood floor's finish appears consistent.
Our hardwood polish application gives your wood floor a new, consistent appearance. Our wood polish lasts about twelve months of normal wear. Call us now to set up an appointment to have our expert hardwood technician inspect your floor for a free service quote. You will absolutely love how well your hardwood floors look after we clean and apply our hardwood floor polish!
Hardwood Cleaning "Shine" Products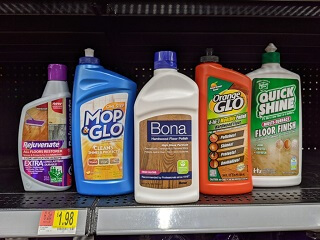 We inspect each floor to find if acrylic wax finish present. If acrylic wax is on your wood floor, we offer a deep wax removal service that removes wax buildup from store-bought "shine" cleaners.
Most people do not know that a many store bought hardwood floor cleaners contain acrylic wax finish. While the wax provides a consistence appearance, it should be removed prior to a new application. Reapplying acrylic wax can build up overtime making your hardwood floor appear as if it has a caked-on residue.
Hardwood wax removal isn't an easy job, and requires professional removal if it's too thick. If you have hardwood floor finish that's peeling up and somewhat soft, it's time to have that wax removed professionally. Caution: Review the different hardwood makes below by pulling up an HVAC air register or examining a door transition. You want to see how the hardwood was made. If you see any particleboard, fiberboard or anything that doesn't look like real, actual hardwood, be careful not to apply too much water to your wood floor, otherwise, it can warp as the fibrerboard absorbs the excessive water.

Different Floors Hardwood Cleaning
Each EverClean Hardwood Cleaning Service comes with an evaluation to find out how your Nashville hardwood floor was made. We see a lot of acrylic wax and polish applied to hard surface floors that eventually must be removed. Acrylic polish lasts only 4 to 6 months before its soft surface is scratched or marred to the point where the homeowner will either reapply more or have it professional removed. We unfortunately see a lot of acrylic wax and removing it s a messy, tedious job.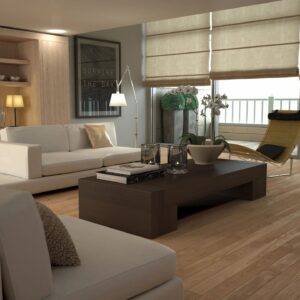 In the picture above, notice the first two hardwood floors starting left to right. Tongue & Groove and Engineered Laminate Hardwood are composed of all hardwood, which means we can remove acrylic wax and polish from these types of floor. They can withstand the moisture content necessary for wood wax removal. However, Engineered Fiber Core Hardwood cannot because the solid core inside is made of fiberboard, a manmade wood composite that swells if introduced to moisture.
EverClean Nashville technicians make every attempt possible, without damaging the integrity of your wood floor's surface, to determine if your hardwood floor contains particle board or composite fiber board. We do this by checking floor vents or transitions to other floors. We cannot guarantee the complete composition of each hardwood floor and, therefore, are not responsible for possible damage during wax/polish removal if we cannot confidently determine the composition of your hardwood floor. We do however typically decline acrylic wax removal if we suspect your hardwood floor contains fiberboard. Call EverClean Nashville today for hardwood floor cleaning in Nashville TN.